Revenue goals- do you set them and forget them? Or wonder what action steps to take to achieve them?
Business Consultant Robin Walker, talks with Danielle Hayden, owner of Kickstart Accounting, about where to start, what gets business owners tripped up when setting money goals, and how to find your sweet spot revenue goal for your business. They get deep into why entrepreneurs can have mindset roadblocks around revenue, and discuss the factors that contribute to second guessing your qualifications or ability to charge what you want to charge. (It also explains that graveyard of courses and downloads you have stored on your computer.)
Danielle lays out specific steps to take to get clear on your money and what is coming in and out. You don't need a financial background or love of math to follow her process of planning for profit.
[Listen in to episode 63 below for more insights on reaching your financial goals…]
Your action step: Use the formula Danielle shares in this episode to find your break-even revenue.
Danielle Hayden is a reformed corporate CFO (chief financial officer) who is on a mission to help rule-breaking female entrepreneurs understand their numbers so they can gain the confidence needed to create sustainable profits. After spending 10+ years in the boardroom as a corporate finance officer, Danielle is now in her sweet spot as the co-owner of Kickstart Accounting, Inc. where she helps business owners with bookkeeping, financial analysis, and education and as the author of the Profit Planner book series. When Danielle isn't crunching numbers on her clients' behalf or crafting the next iteration of the Profit Planner, you can find her hanging with her two kids as she inspires them to lead their fullest lives or doing any, and almost every fitness-related activity ranging from Spartan races to pilates.
Connect with Danielle Hayden:
website: www.kickstartaccountinginc.com
facebook: https://www.facebook.com/kickstartaccountinginc/
instagram: https://www.instagram.com/kickstartaccounting/
Attend Danielle's workshop within the Impact Business Circle here.
Mentioned in this episode: [Episode 50]The Truth About Pricing With Melinda Palmer
Ways to connect with Robin and get support:
IMPACT Business Circle (+Mastermind): Forming groups now for next quarter! https://www.womensbusinessworkshop.com/impact/
Set up a strategy session with Robin: https://www.womensbusinessworkshop.com/coaching/
Book Robin to speak to your group or audience on goal setting or how to attract more clients: https://www.womensbusinessworkshop.com/media
---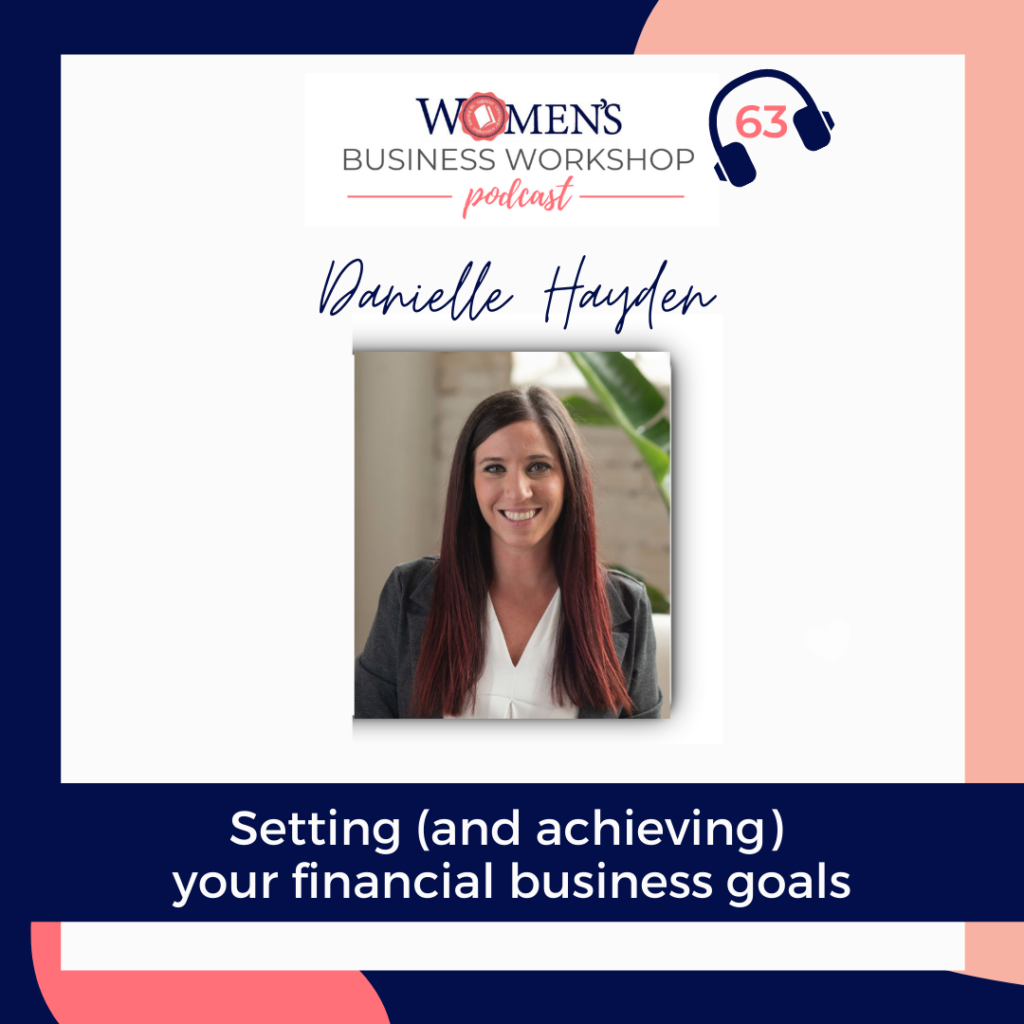 ---
If you loved this episode and are feeling generous, would you mind leaving a review on iTunes or sharing with a business friend? (Select "Ratings and Reviews" and "Write a Review".) Thank you!
Podcast: Play in new window | Download
Subscribe: Google Podcasts | RSS