Ever wonder what it is like inside of a mastermind group? Today we are talking about Mastermind groups- what they like on the inside, how they can help your business, and how to know if one is the right fit for you. There is a free download with 5 questions to ask before joining a mastermind group. To grab that go to https://bit.ly/wbwpodcast
I have been hosting a business membership group that includes smaller breakout mastermind groups for the last 3-4 years. I have also been a part of a few different groups as a user and wanted to share my experience and help those of you deciding if a mastermind group is a good fit for you.
I want to start out by inviting you to check out our membership group, the Impact Business Circle, to see how it might benefit you and your business this year. We plan together quarterly, meet as a whole group for implementing, and then meet twice monthly in smaller mastermind groups for feedback, accountability, and peer to peer support and camaraderie. You can see the details at https://www.womensbusinessworkshop.com/impact/ We would love to have you a part of our tribe.
So why be in a mastermind group? You may be getting free content online, checking in with biz friends now and then, or asking for help in random facebook groups. Why is a mastermind group better?
The general idea for a business mastermind, is that it is a group of your professional peers that meet regularly to help support each other with new business ideas, accountability, and a place for moral support.
This is different from a membership group: a membership is a group you belong to that provides whole group resources and conversations, but not much, if any, personal attention. This could be hundreds or thousands of members.
In the Impact Business Circle, we keep each breakout mastermind group to 5-10 women. Each call, you get your time to share and get support specific to you. Everyone in the group has the opportunity to give you advice if they have been through what you are needing help with. You still have me there as a coach facilitating, but there is group interaction and support. I also check in with each member and remind them of their quarterly goal and the action step they were hoping to complete.
There is a purpose to that.
When you are choosing a mastermind group- make sure you know what you are looking for. Do you want to be able to chat directly to the other members face to face? Do you want to be able to get their advice, in addition to the facilitators? Do you want attention on your business every call? Or do you just want to listen?
Let's talk the money part- there are free and paid mastermind groups. Can you get away with a free one? You know yourself- are you going to show up more often if you are paying for it?
There is a sweet spot- if it hurts too much, it won't be sustainable financially long term. If it doesn't cost anything it usually ends up fizzling out or you don't make it a priority. We don't prioritize free.
Find something that you can live with monthly- it isn't going to stress you out, but it also costs enough to make you show up.
[Listen in to episode 62 for more insights on choosing a Mastermind Group…]
Ways to connect with Robin and get support:
IMPACT Business Circle (+Mastermind): Forming groups now for next quarter! https://www.womensbusinessworkshop.com/impact/
Set up a strategy session with Robin: https://www.womensbusinessworkshop.com/coaching/
Book Robin to speak to your group or audience on goal setting or how to attract more clients: https://www.womensbusinessworkshop.com/media
---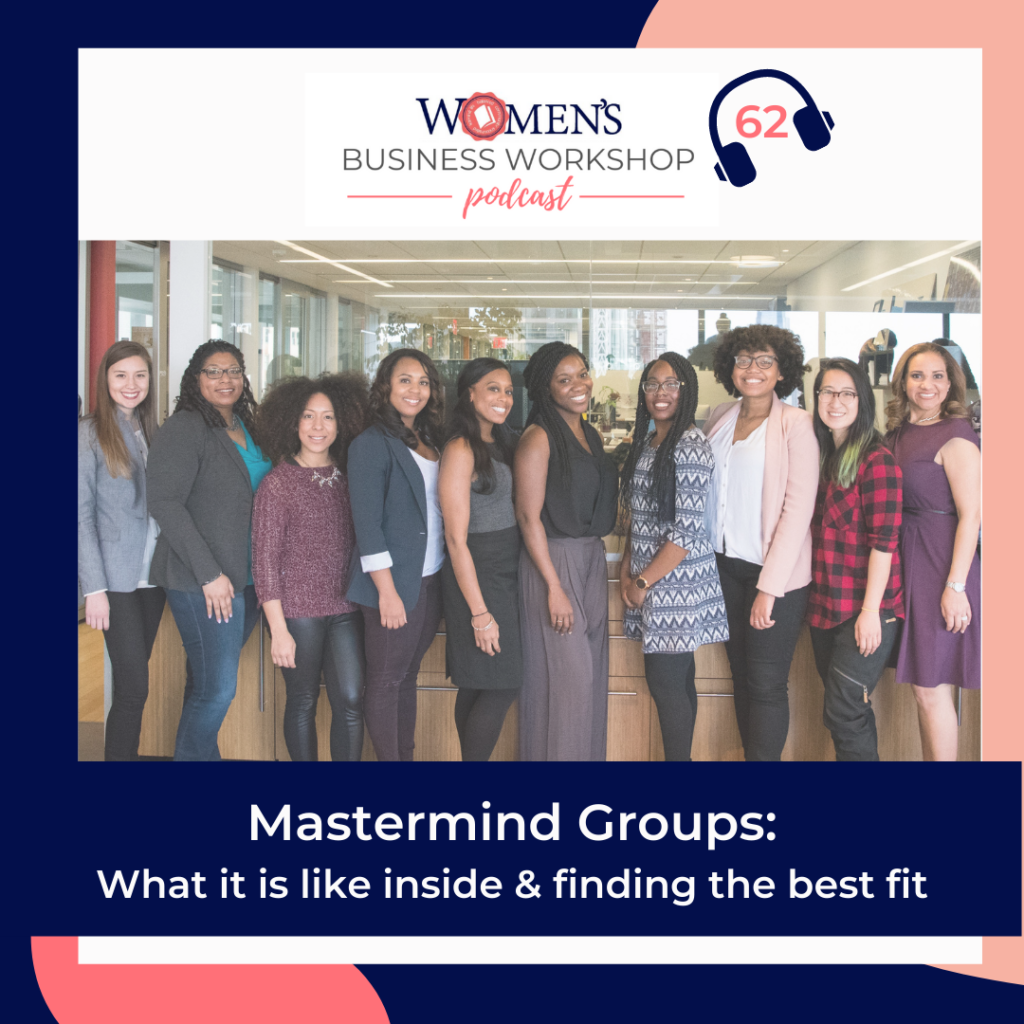 ---
If you loved this episode and are feeling generous, would you mind leaving a review on iTunes or sharing with a business friend? (Select "Ratings and Reviews" and "Write a Review".) Thank you!
Podcast: Play in new window | Download
Subscribe: Google Podcasts | RSS