The forever struggle for small business owners every summer- to keep revenue flowing while somehow finding more time to spend with family and at the beach, and get that elusive 'break'.
This won't happen magically, you will have to take some action to make this happen. It isn't too late, so start today.
[Keep scrolling to see the 3 steps you can take…]
Join us for a free workshop: Catch the replay!
>> Attract More Customers This Summer <<
More details and registration here.
Ways to connect with Robin and get support:
IMPACT Business Circle (+Mastermind): Forming groups now for next quarter! https://www.womensbusinessworkshop.com/impact/
Set up a strategy session with Robin: https://www.womensbusinessworkshop.com/coaching/
Book Robin to speak to your group or audience on goal setting or how to attract more clients: https://www.womensbusinessworkshop.com/media
Step 1:
Get your plan in place for attracting customers and sales for the next 60- 90 days. If you are using your summer marketing plans from a year or two ago- things have changed. You need a fresh approach and some new ideas. It is important to get this done- even a simple, one promotion plan- so that it can start getting views, momentum, and some traction with your audience.
Fight the misnomer that in order to have more time with your family, you will have to sacrifice revenue. That does not have to be the case.
If you aren't sure where to start, or would love some easy new ideas, sign up for the [Attract More Customers This Summer Workshop]. Attend live June 15th for an interactive experience, or catch the replay and work through the workbook on your own.
---
Step 2:
Determine your goals, ideal schedule, and what your non-negotiables are for this summer. Setting intentions for your business and your family is a great way to start the summer off, so everyone is on the same page. Don't just slide into summer hoping the kids know what you want them to do, or hoping those fun activities make it onto your calendar. A little time up front can make a word of difference.
A word of caution from a mom with teens- don't go overboard on fancy chore charts or crazy involved systems. Keep it simple and doable. The more elaborate it is, the less chance you will stick with it all summer.
We will be addressing resources for summer 'balance' at the end of the workshop mentioned above.
Step 3:
Find accountability that will stick. There are SO many distractions in summer, and that's ok when you have built in support. If you have no one asking you if you finished that blog post, or launched that episode, it is so easy to push it aside for other more fun, sunshiney activities. So join a group, get a coach, and have that person nudging you to implement and move on so you can get to the beach without feeling guilty.
PS- trying to find accountability in a friend that also struggles with accountability, usually won't stick. Invest in someone that will show up.
Your action step: Create your summer marketing plan or at least one new simple promotion (not sure what to do? sign up for the free workshop below and I will walk you through it).
Mentioned in this episode: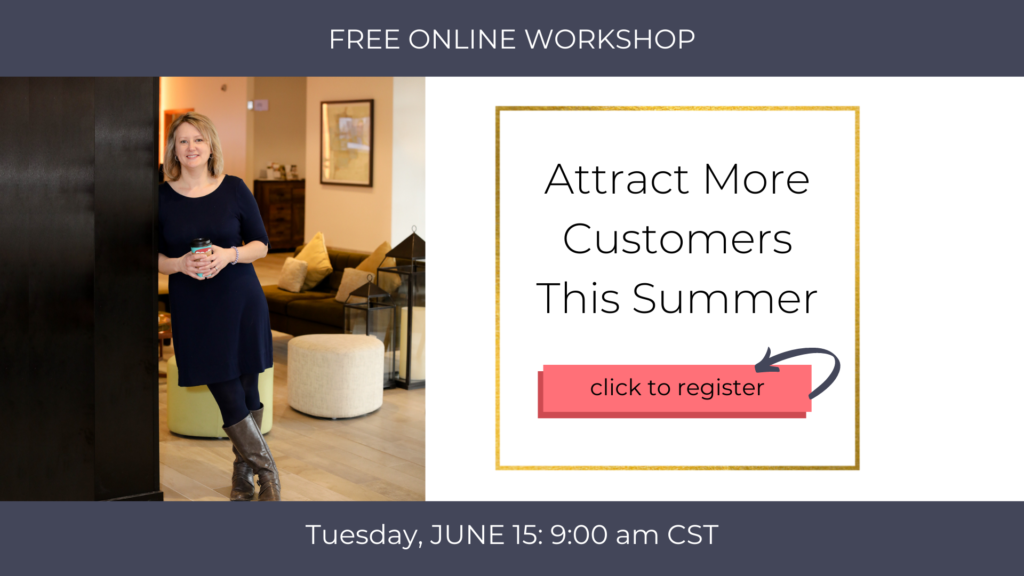 ---
If you loved this episode and are feeling generous, would you mind leaving a review on iTunes or sharing with a business friend? (Select "Ratings and Reviews" and "Write a Review".) Thank you!
Podcast: Play in new window | Download
Subscribe: Google Podcasts | RSS