When you look at your sales goals for November and December, are you trying to increase sales, stay consistent, or do you welcome a slow down for the holidays?
In episode 65, join Business Consultant Robin Walker, to hear about three easy ways to grab some visibility this holiday so you can meet your sales goals for the rest of Q4.
If you are looking to increase sales or even just stay consistent, know that you are going to be competing with a lot of other companies that are trying to get attention and sales over the holiday buying season.
Even if you don't sell products or gifts, other companies that do, are going to be showing up to compete for the newsfeed of your customers. If you are an in person business trying to sell gift certificates as gifts, so are all the other businesses on your block.
What can you do to capture your share of buyer attention over the next two months?
Start by making sure you are headed into the season with a posture of service to your client. Paid service, don't get me wrong- but keeping your client's needs and wants at the front of your seasonal strategy.
Some business owners just throw a themed holiday offer out there this time of year, or they repackage or discount something without much thought.
If you are serving your ideal client, focus on where they are right now before creating an offer. Are they overwhelmed with holiday to-do's, searching for a specific gift? Looking for easier ways to feed their family or guests?
When you know your ideal client really well, you can put yourself in their shoes. They probably have different struggles during the holidays- different schedules, different needs. What serves them in August, may not be what serves them in December. Do they have time for your offer, or will it just sound overwhelming to them right now?
ONE TARGET – ONE MESSAGE – ONE EASY SOLUTION
ONE TARGET
If you don't have a big ad budget or a large following, focus on your warm audience. They already know you or have bought from you. You know what they need, and they know you can help them with it.
Make sure your copy is talking to them, and not the general public. Send value and offers to your email subscribers or past clients. Don't make this the time to start nurturing a new audience, serve the people that already know, like, and trust you.
ONE CALL TO ACTION
The second way to capture attention from your audience this holiday is to have one singular call to action.
Often messaging hops back and forth within our content as far as what we are asking the listener or reader to do. Follow this, sign up for that, go here, checkout there.
Keep it consistent. When your audience sees your business, it is clear what you have going on. Every time they hear about it, it is a chance for them to contemplate if they want it, a reminder it is there, a choice for them to take action.
It isn't confusing, there are no mixed messages, they see you, they think of this product or service.
We all know it takes 7-12 touch points (that number seems to always be changing, so just know it is a lot) before someone buys. Give it time to work and be seen. Pick one message and call to action this holiday and stick with it.
ONE EASY SOLUTION
Lastly, keep it simple and easy for your buyer.
Let's start with your graphics. :/ Please make them easy to read at a glance. Use a large font or a picture that sends a clear message- no light background with white text, or so much text that they have to stop and enlarge the post graphic. Most won't. They will keep scrolling.
Newsfeeds are busy. Keep it easy to read at a glance- simple and to the point. Put the details in the post text itself.
Seasonal Promotion
Are you planning a holiday or seasonal promotion? Plan early so you have your launch window and content ready in advance, and not thrown together at the last minute. Take some time to look back on past offers and data, and plan out your promotion, so you can include it in your Q4 revenue goals and activity.
If you need help with what to offer for the holidays, the Holiday Posts and Promos course is a bonus for Q4 Impact Business Circle members. Join us in the group!
[Listen in to episode 65 for more holiday business support..]
Ways to connect with Robin and get support:
IMPACT Business Circle (+Mastermind): Forming groups now for next quarter! CHECK OUT THE Q4 BONUSES! https://www.womensbusinessworkshop.com/impact/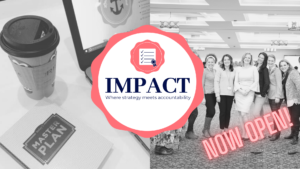 Set up a strategy session with Robin: https://www.womensbusinessworkshop.com/coaching/
Book Robin to speak to your group or audience on goal setting or how to attract more clients: https://www.womensbusinessworkshop.com/media
---
If you loved this episode and are feeling generous, would you mind leaving a review on iTunes or sharing with a business friend? (Select "Ratings and Reviews" and "Write a Review".) Thank you!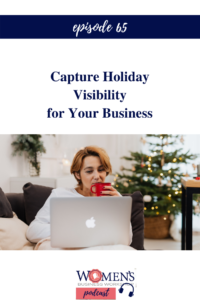 Podcast: Play in new window | Download
Subscribe: Google Podcasts | RSS