Have a mile long to-do list after putting everything off to enjoy summer? In this episode Business Coach, Robin Walker, will reset our business vision and plan for Q4. Now that summer is over it is time to get back into business mode and find a First Focus.
Grab the free worksheets that went along with the original September Reset workshop that you will hear in this episode. It makes it so much more productive!
To grab the downloads, join the free WBW Podcast Club email list here: http://eepurl.com/dHqrMP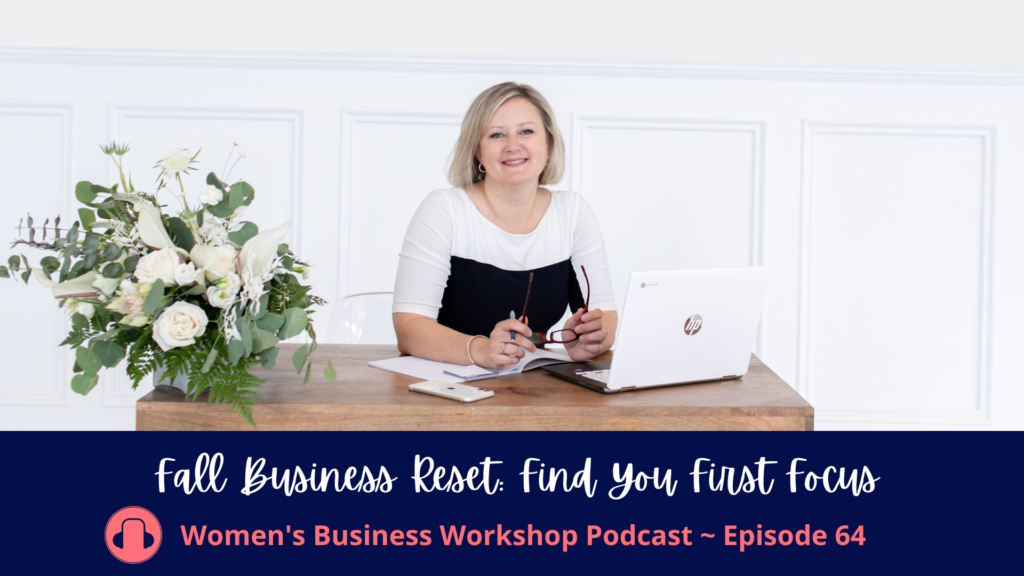 Vision Casting
Let's start by fast forwarding to December 31 of this year. What would have made this a great year/quarter? What would you love to say your work/home life looked like?
Revenue Goals
What are your revenue goals for the next 3 months? Map out the amount for each month AND what you are selling each month to reach that goal.
Base your amount on recent data, with a + or – based on if you are looking to grow or predicting a seasonal lull.
(Not sure how to plan revenue goals? Episode 63 will walk you through it.)
Laying the Groundwork
What needs to happen first in order for this vision to become reality?
Foundational work: Something needs to be optimized or completed in order to make the best use of your time (proof of concept, selling consistently, knowing your audience and their needs, etc.
Hiring: You are at capacity and need help in order to grow. Another reason may be that you are at a roadblock that is out of your expertise and you need support to overcome it.
Visibility: You have consistent sales and a targeted audience, but you need to be seen by more of your ideal clients in order to grow.
Seasonal Promotion
Are you planning a holiday or seasonal promotion? Plan early so you have your launch window and content ready in advance, and not thrown together at the last minute. Take some time to look back on past offers and data, and plan out your promotion, so you can include it in your Q4 revenue goals and activity.
If you need help with what to offer for the holidays, the Holiday Posts and Promos course is a bonus for Q4 Impact Business Circle members. Join us in the group!
Start Your List
Take note of what needs to happen in order to achieve your vision. If you don't know, who can you ask for help?
Make a list of all of the action steps and projects that will need to be accomplished to get your vision into a plan.
Once you have brainstormed #allthethings, compile them into a clean chronological list, and add due or DO dates for the first 10 tasks on your list.
Get Accountability
A plan only works if you implement it.
What kind of accountability can you weave into your plan? Bring on a coach, ask your mastermind group for support, set reminders and timers…what works for you to follow through on your steps?
[Listen in to episode 64 for more insights on getting back on track for fall…]
Ways to connect with Robin and get support:
IMPACT Business Circle (+Mastermind): https://www.womensbusinessworkshop.com/impact/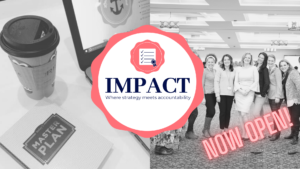 Set up a strategy session with Robin: https://www.womensbusinessworkshop.com/coaching/
Book Robin to speak to your group or audience on goal setting or how to attract more clients: https://www.womensbusinessworkshop.com/media
---
If you loved this episode and are feeling generous, would you mind leaving a review on iTunes or sharing with a business friend? (Select "Ratings and Reviews" and "Write a Review".) Thank you!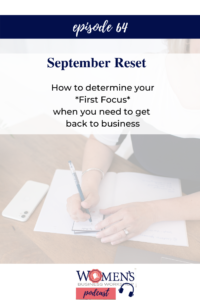 Podcast: Play in new window | Download
Subscribe: Google Podcasts | RSS