Business consultant Robin Walker joins guest Carol Cox of Speaking Your Brand, to talk about being a thought leader as a female business owner or professional.
Listen in to hear about:
What is Thought Leadership?
The four levels of Thought Leadership
What holds women back from sharing their story?
How the Expert Trap holds us back
Where fear plays into taking the leap to leadership
Balancing professionalism and vulnerability in social media
How Thought Leadership is an ROI back into your business: When you have a thought leadership message that you put out consistently…then you start getting picked up for media coverage, awards, and speaking events, which allows you raise your speaking fees and get new clients.

Carol Cox
Mentioned in this episode:
Speaking Your Brand Episode 116: 16 Ways You Can Use Your Signature Talk
Join us at the 6th annual Lakeside Conference in SE Wisconsin April 11th!
https://bit.ly/2022lakesideconference
Connect with Carol Cox:
Website: https://www.speakingyourbrand.com/
LinkedIn: https://www.linkedin.com/in/carolcox/
Your action step: What experience from your past has stuck with you that caused you to pivot or taught you something? What did it teach you and what did you learn about yourself? Use that to get started finding your story.
Ways to connect with Robin and get support:
IMPACT Business Circle (+Mastermind): Forming groups now for next quarter! https://www.womensbusinessworkshop.com/impact/
Set up a strategy session with Robin: https://www.womensbusinessworkshop.com/coaching/
Book Robin to speak to your group or audience on goal setting or how to attract more clients: https://www.womensbusinessworkshop.com/media
---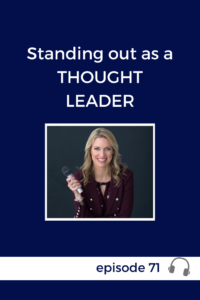 ---
We would be honored if you would subscribe to the Women's Business Workshop podcast so you don't miss our next guest! You can also sign up for all downloads from the podcast when you join the podcast club here.
Podcast: Play in new window | Download
Subscribe: Google Podcasts | RSS