In this episode we discuss how to shift your mindset when you have a belief that is getting in your way or holding you back in your business.
What even is mindset? How to know if you have a mindset issue.
What are some of the common mindset limitations female business owners have?
How your strengths play into your mindset.
How these same strengths can cause a limiting mindset.
How we move past a mindset block.
Jenni Schubring is a Transformational Life Coach, speaker, and owner of Jenni Schubring LLC. She is a Nexecute licensed life coach which allows her to bring their tools to her clients. Jenni wants everyone to experience the freedom and empowerment that comes with knowing who they are. Along with her 1:1 clients, she has had the opportunity to speak at conferences, women's retreats, and trainings. In these spaces she discusses clarity, purpose, and action.
Mentioned in this episode:
The Lakeside Conference (grab the 2021 replay for only $27 here)
Your Action Step: Write down 1-3 specific challenges you are currently having; whether business or personal.
Clifton Strength Finder: Take your assessment here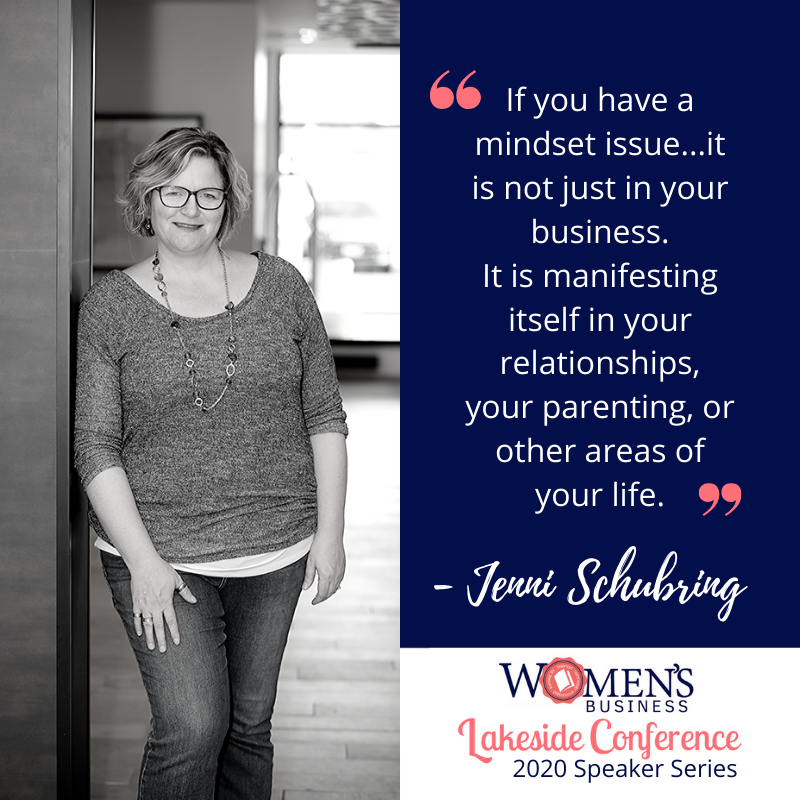 Find Jenni:
Website: jennischubring.com
Facbook page: https://Facebook.com/inwhoyouare
Facebook group: Facebook.com/groups/embracingyourstory
If you loved this episode and are feeling generous, would you mind leaving a review on iTunes or sharing with a business friend or fellow entrepreneur? (Select "Ratings and Reviews" and "Write a Review".) Thank you!
Join the Podcast Club email list and get the newest podcast freebies and downloads in your inbox!
Podcast: Play in new window | Download
Subscribe: Google Podcasts | RSS