Is your to-do list sabotaging your success?
Robin Walker, business coach, speaker, and IMPACT Mastermind host is talking about the dirty truths of your TO-DO List.
There are ways your to-do list may actually be slowing you down and causing more overwhelm or lack of action in your business. That's not what we are shooting for. We are craving focus and productivity and getting to that project finish line.
Your list may be keeping you overwhelmed and encouraging productive procrastination or avoidance.
In episode 33, we discuss what you can tweak on your list to create more goal focus and to make the tasks easier to complete.
You can also learn an easy 3 step list process that helps you keep your big dreams documented, action steps handy, and a daily list that you will actually complete.
You can grab a copy of the blank action step list we use in the IMPACT group by signing up for our podcast email list. You only have to sign up once and you will get the freebies every time a new episode comes out. If you are already on the list, check your inbox and get started on your action steps!

You can sign up once and receive any new freebie or download we offer on the podcast.
---
If you loved this episode and are feeling generous, would you mind leaving a review on iTunes or sharing with a business friend? (Select "Ratings and Reviews" and "Write a Review".) Thank you!
---
Mentioned in this episode:
The Impact Accountability Group combines strategic planning, goal setting, and the accountability of a small mastermind group to help female business owners meet their bold goals and move their businesses forward.
Check out the monthly membership options here.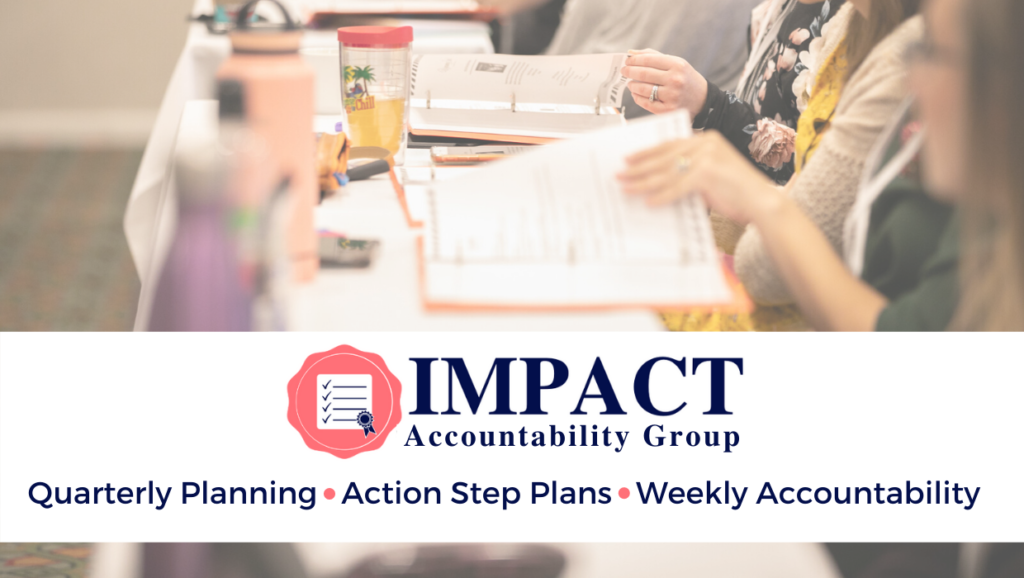 Episode 15: How to Avoid Productive Procrastination: Listen Here
Join our private facebook group! https://www.facebook.com/groups/womensbusinessworkshop.com
Social psychologist Roy Baumeister and journalist John Tierney, authors of Willpower: Rediscovering the Greatest Human Strength
Consider It Done! Plan Making Can Eliminate the Cognitive Effects of Unfulfilled Goals E. J. Masicampo and Roy F. Baumeister Florida State University
Podcast: Play in new window | Download
Subscribe: Google Podcasts | RSS