Listen in to hear about how to get more accomplished while working from home with kids. I will be sharing 3 quick action steps to get you on your way to increased productivity when having more distractions and less time to work in your business.
In different phases of parenting and business, we sometimes have less time for dedicated and uninterrupted work hours. If now is one of those times for you, it is important to set yourself up for success and make sure the time you are working is on the 'right' things.

I will touch on each step here, but the episode will go into greater detail and give more relevent examples.
1. Do your most important work first
When you are limited on dedicated worktime, when you can work, make sure you are doing the most important tasks. Work on what is urgent (a task with an approaching deadline), or what is directly making you money (sending invoices, follow up with paying or interested customers).
Don't focus on the hardest thing first, unless it also happens to be the most important.
2. Narrow your focus on one thing
When there are many things competing for your attention, the last thing you need is an enormous to-do list.
Our natural inclination when staring down an overwhelming list is to do the quickest or easiest thing first. That isn't what you need right now. You need to focus on tasks with impact.
Grab your to-do list (we love action step lists in the IMPACT Accountability Group). Take off the top 2-3 tasks that need to get done the most and highlight them. Then choose one to write on a post-it. That is your first focus for the day. Once that is done, you can go back to the highlighted options. In the meantime, put that big list away.
3. Listen to your body
If you have done time audits or researched your best work times in the best, my guess is that things have changed. Take a fresh look at your mood and motivation cycles while being at home. When are you the most productive? This may vary throughout the day, or throughout the week. I have to take a day off now in the middle of the week to recoup and then start back up again. I get more done by having a day to rest, than if I forced a full schedule all week.
One of the biggest mistakes you can make is trying to work while your attention is divided. We all know this. Yet we try to help our kids with school, while also trying to do our work. That is a recipe for frustration. Do a 'start and stop' task like folding laundry or sorting papers so you aren't wasting your mental energy switching concentrated attention between two tasks. Do your work while the kids are having screen time, napping, or playing outside.
If you need ways to keep your little ones engaged while you work, this blog post is an oldie, but a goodie.
How to Work at Home With Infants and Toddlers
Still stuck?
If this still doesn't work for you or you are having a harder day focusing, grab the Take Action Checklist- a checklist of things you can do when you are stuck.


You can sign up once and recieve any new freebie or download we offer on the podcast.
---
If you loved this episode and are feeling generous, would you mind leaving a review on iTunes or sharing with a business friend? (Select "Ratings and Reviews" and "Write a Review".) Thank you!
---
Mentioned in this episode:
The Impact Accountability Group combines strategic planning, goal setting, and the accountability of a small mastermind group to help female business owners meet their bold goals and move their businesses forward.
Check out the monthly membership options here.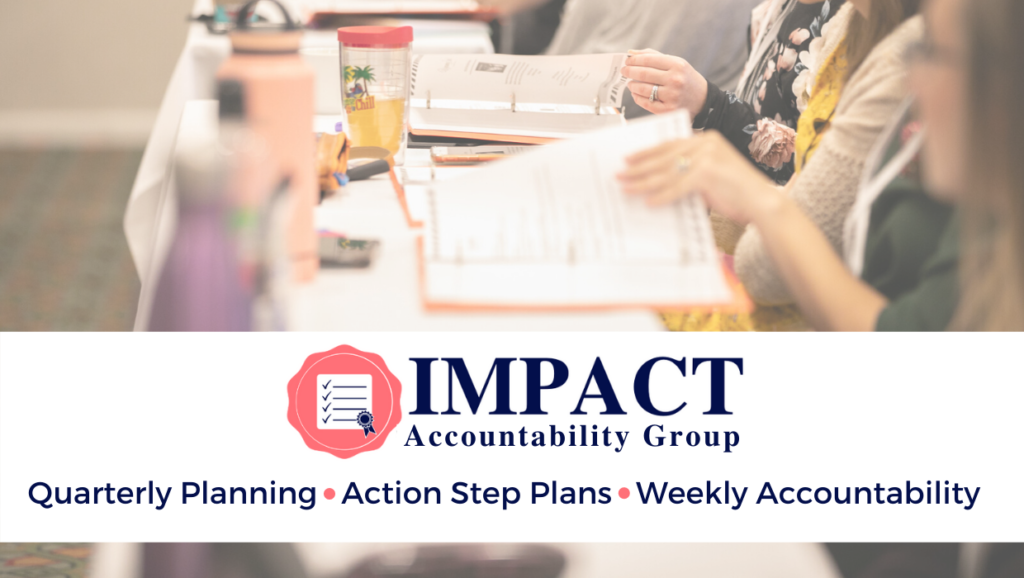 Podcast: Play in new window | Download
Subscribe: Google Podcasts | RSS