Don't resort to 'winging it' this summer if you actually need to get something done.
Before the kids start sleeping in, wandering around the house aimlessly, and asking when you are making lunch, it is time to make a plan!
Trying to work in the summer with kids home can be tough, especially if you are just going to wing it! Taking a day or evening to get some systems in place can save you hours of redirecting, refereeing, and entertaining the kids. Get moving now Mama and put a couple of plans in action. You are in charge!
Routines and systems to set up BEFORE the kids get comfortable this summer:
Create a Daily To-Do List
What do you want your kids to do everyday? Are there chores they need to finish? Reading or journaling? Playing outside? Our kids have a simple daily to-do list that helps prevent our house from becoming a disaster zone.  It has some basic things they should be in the habit of anyway; making their bed, brushing teeth, making breakfast, and I rotate in other chores or activities as needed.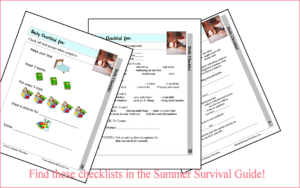 Don't forget your daily list! I believe that setting expectations for your day can be very powerful. Jot down a few optimistic goals for the day or get a planner and write out your schedule. There is a simple printable daily to-do list here that prevents overwhelm because it has limited spots to write on. Only the most important make the list for the day.
Set snack and Lunch Expectations
I think we all complain about how much food we go through in summer. One of the causes at our house is 'grazing'- kids just nibbling on snack food all day long. Set your expectations for summer eating. What is an acceptable breakfast? Lunch? When can they grab snacks? We have a 'no packaged food' rule for snacks in the summer. We save those for trips to the beach and car trips. One of my children would eat 14 granola bars a day if given the opportunity.
Don't forget to tell the kids…
You eat = You clean up
Print a 'What to do when I am bored' list
Kids are used to the routine of school, so the wide open days of summer do lend themselves to getting bored. Below is a link to a free printable list to give them when this happens. This activity list is geared toward school agers, and are things they could do on their own, for an old school style summer. Making a scavenger hunt, bike wash, writing a letter to Grandma, all the things we wish they would do instead of sitting in front of a screen.
Set Screen Time Limits
The last time I met friends for coffee, the topic of conversation was how to keep our new high schoolers from spending their entire summer in front of their phones. What is a realistic amount of time they should be allowed? How do we enforce it? Every family has different media rules, but we all agreed we should get something in writing before the summer begins. We will be discussing this topic in our facebook group if you would like to join in!

Get Help
If this seems like to much work or planning isn't your thing, we've got you covered. Check out the Summer Survival Guide Workbook with printable lists, how to's, and worksheets on setting up your ideal summer.
Want it even easier? Summer Cheat Sheets give all the activities, goal setting, and food ideas for the week. Just print each week and pass them out to the kids!
What summer tip can you share that works for your family?