In this episode, business coach Robin Walker shares what business owners have learned through the pandemic of 2020, and how you can use those lessons to better prepare for 2021.
I have yet to find anyone that had their business and home life sail through 2020 without any changes. We have all had to stop and re-evaluate, adjust, or pivot. No one was immune, whether it means it was your best sales year ever, or the worst.
We are aware of the big things- the revenue changes, changes in in-person scenarios, customer spending habit changes…but have you looked deeper into why those changes affected you so much? Or why one part of your business really shined during the hard times?
What 2020 taught me about business
I coach female business owners. I do this through one on one, and in the Impact Business Circle group. I also host multiple in-person business events throughout the year, as well as speak at events.
In early March of 2020, my 2 day conference, the Lakeside Conference, made it live just under the wire. We got to meet in person the beginning of March, and it felt like the next week, the world turned upside down. The idea that a year of work planning and thousands of dollars in venue costs could have been lost had it been a week later was a very scary feeling. I realized how much of my business year was spent on this one 2 day event. Because so much of my heart went into this event, I had less to give elsewhere- to my family, and to the rest of my business for a good chunk of time.
2020 gave me the opportunity to take a fresh look at the event and how it can better serve the women that attend and feel more aligned with my business.
Mourning in-person events
I did have to pass on creating any other in-person events. My mom always says- this too shall pass. I know those events will happen again- just not today. In the meantime, I have embraced online events.
Online and an in person events are not the same, so stop trying to compare them.
It is true- they aren't. Each has its own pros and cons. I started attending online networking groups that were over an hour from my home. It would have cost me half a day at least to attend these in the past. Now I can log on, leave the heels in the closet, and then afterwards get back to work. I have found speaking events online that don't require travel, and I have still attracted new clients and followers through those events. Have you embraced online events? Whether you are zoomed out or not, they are here to stay and you might as well take advantage of them in 2021.
What worked in the past is no longer working
It wasn't just me that had my world turn upside down- it was my clients too. I had to keep showing up and finding out what they needed. I kept asking, kept trying new things, kept going live, kept listening. As their needs changed, so did how I showed up. I couldn't just rely on what worked in the past. I had to stay one step ahead of my clients so I could offer what they needed. In 2021, be sure to build in activities that keep you in touch with what your clients need.
What I saw behind the scenes
Of the businesses that I have been close to throughout the pandemic, those that used group planning as part of their business weathered the storm the best. I witnessed women who weren't sure what to do next, show up for mastermind meetings and find support and encouragement to keep moving forward and serving any way they could. They laughed together, shared their tears, and just as importantly, kick their butts back to getting on track.
These women had yearly goals and a year end vision. They knew the path would have to change a bit, but they knew where they were headed. The finish line didn't change, the race just had more hurdles.
Do you have an end vision for 2021? Where do you want to end up?
If you want this kind of planning and implementation support, hop into the Impact Mastermind Group before Dec 31, and you can get the Plan Your Year Group Intensive for FREE as a member…and you get the support and follow up all year long. Find your tribe for 2021!
Mentioned in this episode:

Join us for a one day intensive to get your 2021 goal set, strategic plan in place, and the accountability to get it implemented. PLAN YOUR YEAR Group Intensive for business owners (womensbusinessworkshop.com)
Early Bird ends November 30th.
Missed the Early Bird? Join the Impact Business Circle and get the workshop for free! IMPACT Mastermind for female entrepreneurs (womensbusinessworkshop.com)

Episode 44 guests:
Jamie Van Cuyk: JamieVC – Small Business Consulting: Growing and Leading Teams
Jessica Barzler: https://www.jessicabarzler.com/
---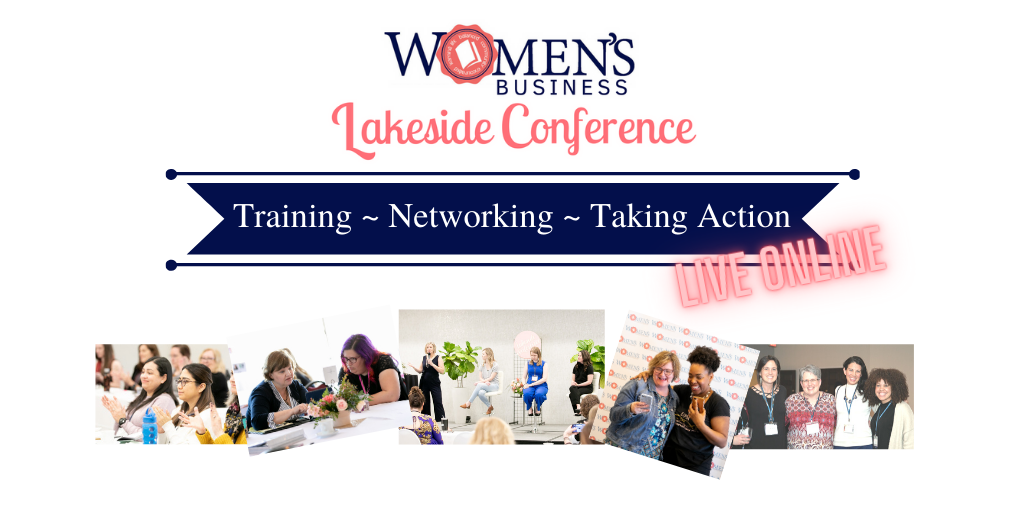 The Lakeside Conference is coming up in the new year! Join us for a LIVE virtual conference February 22-23, 2021.
Hop on the email list to get notified of Early Bird ticket bonuses! http://eepurl.com/cot291
---
Other ways to connect:
Women's Business Workshop facebook group: https://www.facebook.com/groups/WomensBusinessWorkshop
Book Robin to speak to your group or audience: https://www.womensbusinessworkshop.com/media
IMPACT Business Circle (+Mastermind): Forming groups now for next quarter! https://www.womensbusinessworkshop.com/impact/
Set up a strategy session with Robin: https://www.womensbusinessworkshop.com/coaching/
---
If you loved this episode and are feeling generous, would you mind leaving a review on iTunes or sharing with a business friend? (Select "Ratings and Reviews" and "Write a Review".) Thank you!
Podcast: Play in new window | Download
Subscribe: Google Podcasts | RSS