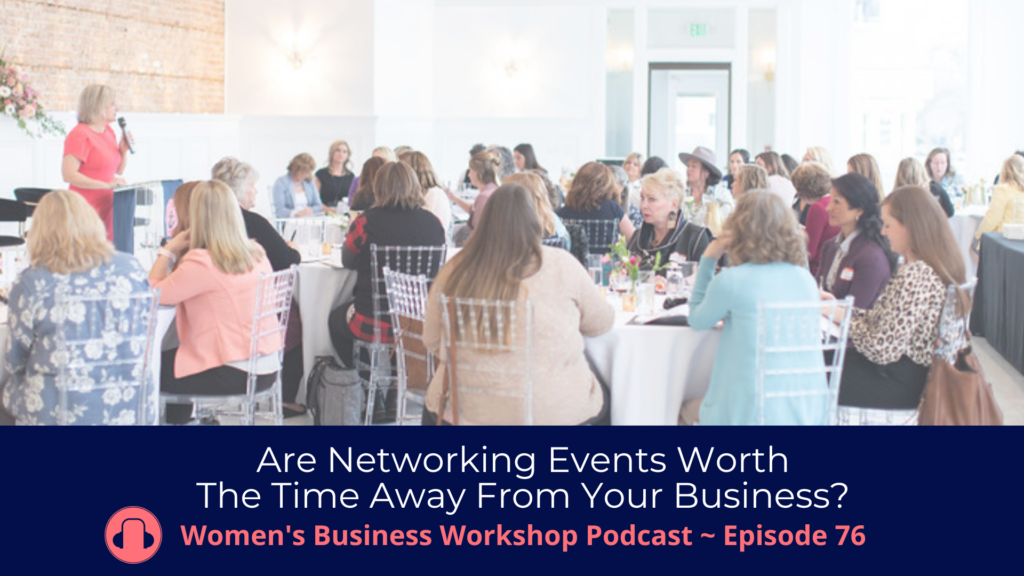 When you think of going to a networking event do you think:
I am too busy.
They aren't really my thing.
It is too hard to get away.
You are not alone. Often we get caught up in our day to day and don't pick our head up. We stay in our circles where we are comfortable. Business is good or good enough so we just do more social media and stay in place. Maybe you got out of habit with the pandemic, or you just don't like traditional networking.
When we are so busy it is hard to know if leaving your business to go to networking events is worth the time away. We are going to explore what circumstances are best for networking and what you can get out of attending in person events- even if you are a 100% online business.

When I started my business I tried a local networking event. It was a coed chamber after hours with no agenda, just hanging out in a hotel lobby. I went with a friend I knew and if she wasn't by my side, no one really came up to me. I am definitely extroverted and even I felt awkward. When someone finally talked with me, the conversation was short, and dependent on if I seemed like a sale to them or not. I hated it. I never went back. When I started hosting events for female business owners, I was determined to make them better.
I design my events to avoid all of the things that I did not like about traditional networking events. I try to provide natural connection opportunities, and encourage connection over self promotion. When possible I have greeters to get you settled, small group seating, and of course a business topic to learn from and help make conversations more meaningful. There are good events out there, keep trying!
Long Term vs. Short Term Gains
Often people go into a networking event looking for short term gains that are actually more often long term gains- and that is a quick sale. Sales come from building relationships and that in turn, result in referrals or new clients.
Focus on valuable short term gains:
New local friends, business peers, and local resource connections
Time out of your business for a break with peers (we need this more than we know!)
A chance to learn new business skills or to develop your business
Business Scenarios that Benefit From Networking Events
Your business relies on referrals and word of mouth (or you want it to): When meeting people face to face, they get to know you personally. It is a stronger bond than a logo on social media. Ultimately, word of mouth is the person referring YOU, not just your company. Seeing these connections regularly keeps you top of mind and continues to deepen the relationship, making referrals second nature.
You need new business visibility in your community: This is especially important if your sales rely on customers coming into your physical space, or you have a geographical requirement for your target market. In-person interactions help get the word out about your business in the community. It is also really helpful if your business is hard to explain online, and this gives you the opportunity to explain it in your own words.
Your connections multiply: When at these events, introduce new friends to your current connections at the event. In turn, this will happen for you. This increases your exposure to not just the people you approach, but to their contacts as well.
You are new in town, opened a new location, or bought out a local business: When starting at square one, networking can fast forward your visibility through word of mouth in the community. 'Anyone know what is going in at First and John Street?' Represent that new business so you can be the one sharing information and getting a jump start on attention.
You are burnt out, need a break, or have too many customers: When keeping your head down and just focusing on clients and the day to day, you can get burnt out and overwhelmed. Getting out of your business and taking a break helps you switch gears and get some outside perspective. I get some of my best ideas when I take a break from my business at an event! Yes…you can take a break.
You need more customers:
According to fitsmallbusiness.com, You are 24% more likely to gain new customers through in person networking as opposed to online

fitsmallbusiness.com/business-networking-statistics/
What About Online Businesses?
Camaraderie and surrounding yourself with other people in a similar position can be a breath of fresh air. After someone joined our group she mentioned how she didn't realize how much she needed to be around other women running businesses. You think you are fine, until you get in the room and remember how much you need the connection.
It is also a great way to meet other service providers that you may use in your business. For many of us, we feel more comfortable hiring someone we know personally, than picking someone random online.
You can also get to know policy makers and community leaders, and that is always a good thing as a local business owner.
Lastly, if there is content being presented at the meeting that can be useful for you AND you can meet other people, this is a win win. If you are open to it, you can find something from almost every presentation that you can learn from or apply to your business. Continued education in business is important, regardless of your business background.
How to Choose an Event
Look for unique opportunities and events that include ways to interact in a natural way, or have an activity or agenda. These events are usually easier for introverts or as a first time attendee.
Once you try an event that you like, connect with the event host and follow their event schedule.
Another creative networking opportunity is to volunteer with a group that has a mission you can get behind.
Find workshops or business training that provide a chance to meet others and learn something new.
Try to avoid judging an event by one visit (like I did in my story). Continued exposure is what builds the relationships, and maybe the event (or you) had an off day. Visit a few times before determining if you want to take it off the list.
Checkout episode 72 about making the most of the events before, during, and after you attend.
Need an event to try and you are in the Se WI or N IL area? Hop on our locals list to hear about upcoming events.
Robin xo