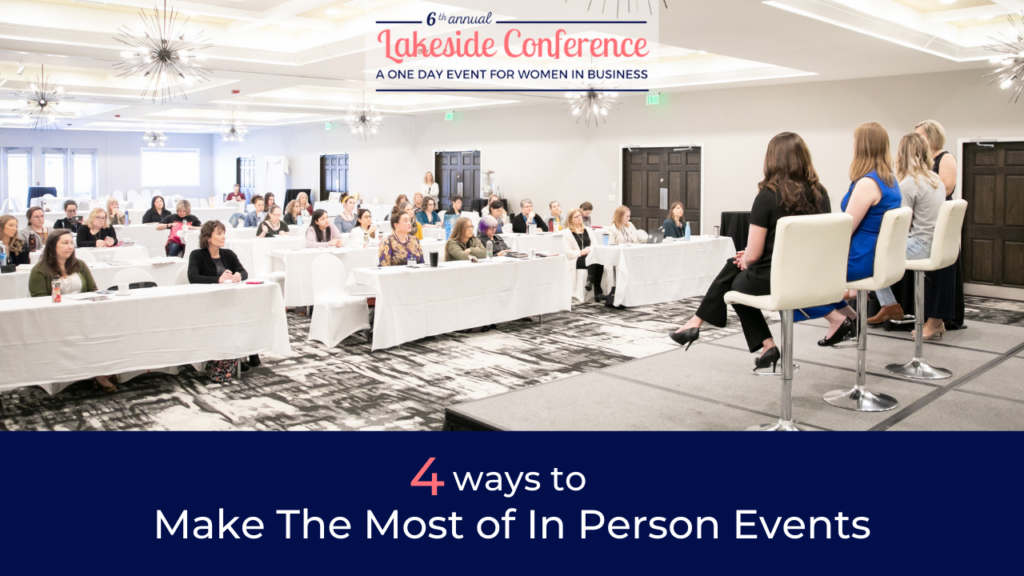 Have you been back to in person events yet? Most of us rely on them in our business for one reason or another, whether that is for community, learning, or building our network. As we get back into meeting up in person, take some time to be intentional before you attend a business event.
Before the Event
Decide on a Purpose
Before you sign up for a bunch of events, decide what the purpose is for going to this event. Not every event is worth your time away from the office or your family.
Reasons to attend an in-person event:
Increase your brand awareness
Build community business connections
Find personal community and camaraderie 
To talk to a specific person
Generate potential leads or warm connections
To improve a skill or to learn new business skills.
Warm up the community
Some events have a corresponding facebook group or page. Hop in there and comment, introduce yourself, and get to know the group. Don't spam or sell, just start to get to know everyone and get a feel for the vibe of the group.
Have a Conversation Question Ready
If you are shy or have trouble starting conversations, choose a go-to question ahead of time that you can use for new conversations. The best questions are about the other person, general, and help you get to know them.
Be Ready to Connect
Be prepared to connect in the future with someone you meet at the event. Have your business cards easily accessible. You can also create a QR code in canva (or other apps) to offer or have on a business card. Lastly, you can have a calendar link ready to share via messenger if you want to set up a meeting or coffee chat after the event.
It is time to get out there and continue to build your network and business circles. It only takes a few minutes to prepare to get the most out of an event.
Looking for a local event to attend? The sixth annual Lakeside Conference for women in business is being held April 11th near Lake Geneva, WI. We will set you up for great connections, new business skills, and a time to make plans for your business in 2022. Join us! https://bit.ly/2022lakesideconference