The other day I could not get focused. I had a project on my list for the day and really just did not want to do it. At. All.
I felt like either a teenager or a toddler. I just didn't want to do it. No one could make me (arms crossed across my chest). Pouty face, eye roll.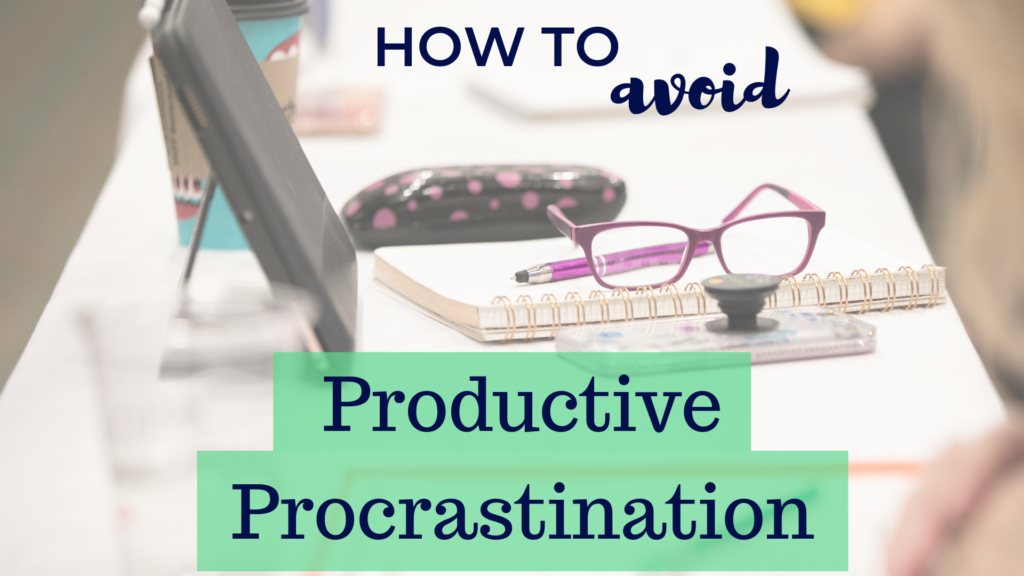 I had to take the car into the shop early that day. Which I realize is a perk of being a work at home parent. However, by the time I was done dealing with that it was early lunch. After eating, I sat down and tried to force myself to tackle work. I stared out the window.
I really should finish staining the deck while it isn't raining. The grass back there is a little long. The kids should really be doing that. Maybe I need to make new chore charts for the summer.
And on it went. I answered a couple of emails. I taught one of my kids how to mow the lawn. I drove a kid to work. Went to the bank. Planted a bush that had been in the store container for a month.
These are all productive tasks.
However my daily tasks to required to maintain my business remain on my to-do list. I am no closer to meeting my goals. Today was designated for work and not random household projects. I was procrastinating and dressing it up as being productive.
According to Urban Dictionary, the definition of Productive Procrastination is 'Doing stuff to keep busy while avoiding what really needs doing."
What have you done this with in the past? Financial reports? Blog posts? Emailing your list?
Once you recognize that is what you are doing, you can make a conscious choice to redirect your activity. Some days that is HARD. The other day I felt like nothing would help me tackle my project. Fortunately, I had resources to tap into to help me refocus. Here are my suggestions.
Start as You Mean To Go On
The problem with my day was that I started off on the wrong foot. While the house was quiet and my work brain most efficient, I was off getting a car fixed. In hindsight, I should have requested an afternoon appointment, versus first thing in the morning.
Stick with your schedule when you can and guard your work hours and boundaries.
The second problem was that my action list that I had already planned out for my goal and for that particular day, was not where I chose to sit and work. So no clear direction. No note in my face telling me what to do. This opens up the overwhelm of what to work on next. So. Many. Options.
Keep your action list nearby wherever you choose to work. Don't sit down until you have it, or you know exactly which ONE STEP you are going to work on.
Phone (or message) a Friend or Business Peer
My first step towards focus was sending a voxer to a business friend, and venting about not wanting to do my project. She was understanding, gave a suggestion, and then reminded me of the importance of what I am setting out to do. She was the right person to call because she understands work at home life, but didn't complain with me and keep me in my avoidance mindset. It was the nudge I needed.
Change Your Scenery
Is the place you chose to work have too many distractions? If you are doing work that can be done anywhere, find a new spot. Getting out of your usual space can also fuel new creativity or motivation. Set a task goal and tell yourself you won't leave until you have completed your goal.
Choose a quiet, different corner of your home or office that you don't normally work in
Leave the house and work at the coffee shop, hotel lobby, book store, or anywhere that you won't be tempted to work on other things.
Leave all the extras in the office. Only take the things you need for the task.
If it is not a time-sensitive task, go for a walk or do something that brings you joy or energy first. Just give yourself a limit and then get back to work.
Do a Brain Dump
A brain dump is when you start free writing and listing anything that comes into your head. It can be related to a certain topic or just any random thoughts. Getting all of this out of your head and onto paper helps clear your mind, but also gives you the confidence to think of other things, because those thoughts are now documented.
Option 1: Brain dump anything at all. Get your personal, family, and business thoughts on paper. Anything you are worried about, things that keep popping up, ideas, to-do's, anything…
Option 2: Brain Dump everything in regards to the thing you are avoiding. Sometimes the task is just too overwhelming. If you haven't set up action steps yet, this could be holding you back. Dump it all out and then organize the information until you have a clear action step.
Change Your Mindset
There may be an underlying reason that you are not able to move forward on this task. Ask yourself:
Why are you putting off this task?
What about it do you not want to do?
What is the REAL roadblock?
Is there something about the process or outcome that you fear?
If you figure out that you really just don't want to do it, just acknowledge that. However, this is where Mrs. Walker (me in my former teaching life) combines with Robin the mom.

What would you tell your kid if they said they didn't want to unload the dishwasher. Let me guess… Do it anyway… Sometimes we do things we don't want to do… Suck it up Buttercup.
Sorry not sorry my dear. Sometimes in business we have to pretend we have a boss that gave us a deadline. We have to have the discipline to do the hard (and boring) things. Hire out if you can, but sometimes it comes down to just doing the thing.
---
Productive Procrastination can keep us from working toward that Big Dream.
That feeling of never really making progress? Wondering why your goal doesn't seem any closer? Check what you are actually spending your time on day to day.
To help you get back on track, I combined all of the ideas above, plus a few more, into a free download: [Time for Action Checklist: Avoiding Productive Procrastination]